Slideshow of National Library and Edinburgh Central Library
The library originated as the Library of Faculty of Advocates of 1689. The library as granted the right to claim a copy of every book published in the British Isles under the 1710 Copyright Act. In 1925, the Parliament established the
National Library of Scotland
as a legal depository for government documents. The current building for the NLS, on George IV Bridge, opened in 1956. The library has a special focus on the ephemera from Scotland.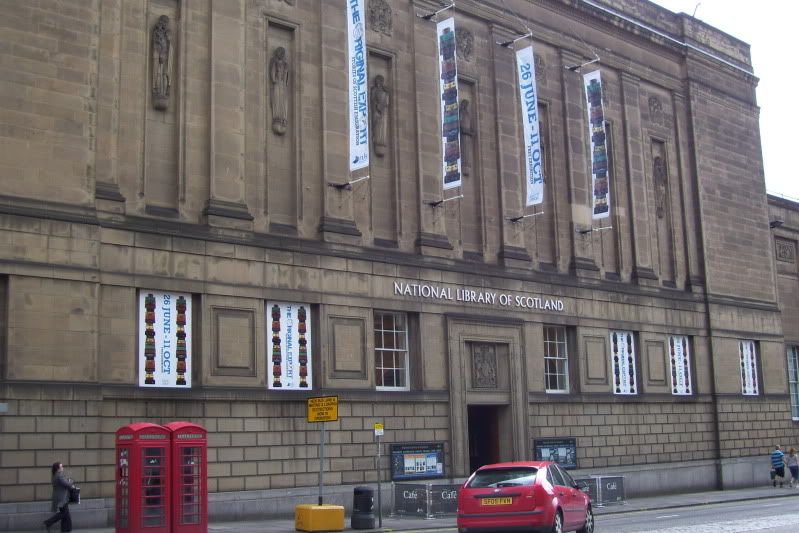 Of special interest to me was to learn about the library's substantial collection of
school prize books awarded from 1775 to 1956
.
The School Prize Collection
photo from www.nls.uk
I was fascinated to learn about the historic children's
chapbooks
, which were cheap booklets sold by peddlers. I imagine that for some children, this was the only opportunity for leisurely reading, like a library bookmobile. The library also has a Theater collection. Other special subjects include sports and leisure, genealogy, official government publications, rare books, manuscripts, Scottish Screen Archive, maps, John Murray Archive, Gaelic and Scots, mountains and mountaineering.
Librarians use exhibits to make the collection accessible. The current exhibit highlights the wealth of materials the NLS had to offer.
14 million books and manuscripts
2 million maps and atlases
300,000 music scores
32,000 films and videos
25,000 contemporary newspapers, magazines and journals
6,000 new items every week
Pictures of National Library of Scotland and Edinburgh Central Library