Slideshow of National Library and Edinburgh Central Library
Just across the street from National Library of Scotland is the
Edinburgh Central Library
.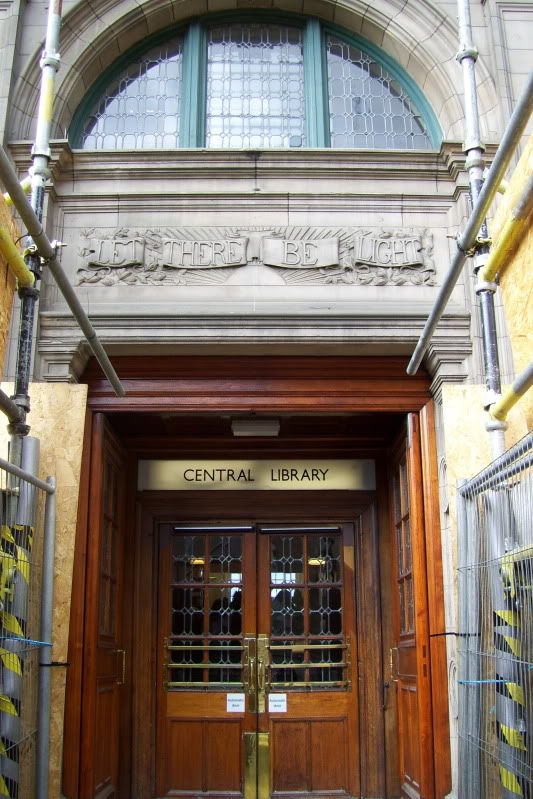 When this lending library first opened in 1890, they had closed stacks. This library is an excellent example of a
Carnegie Library
.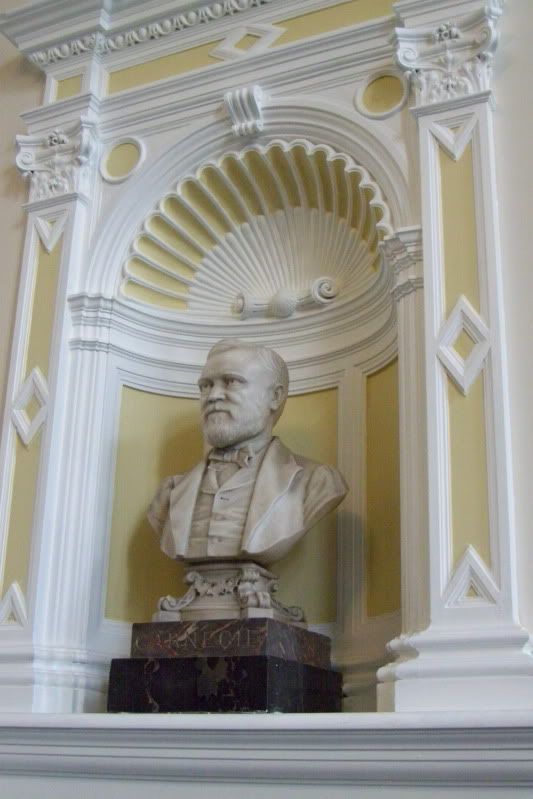 bust of Andrew Carnagie, 1891
Notable Carnagie library characteristics at Edinburgh Central Library include the entry steps and the quote on the front of the building, "Let There Be Light."
Currently there are 50-60 staff members. The library uses Library of Congress classification, except in the children's collection they use Dewey Decimal System. What is seen on the shelves is only 10% of the collection. The library card catalogs are still active. Two-thirds of the collection is cataloged online. The Reference Library has built-in card catalog drawers. The Reference Library used to be segregated; ladies and gentlemen could not sit together.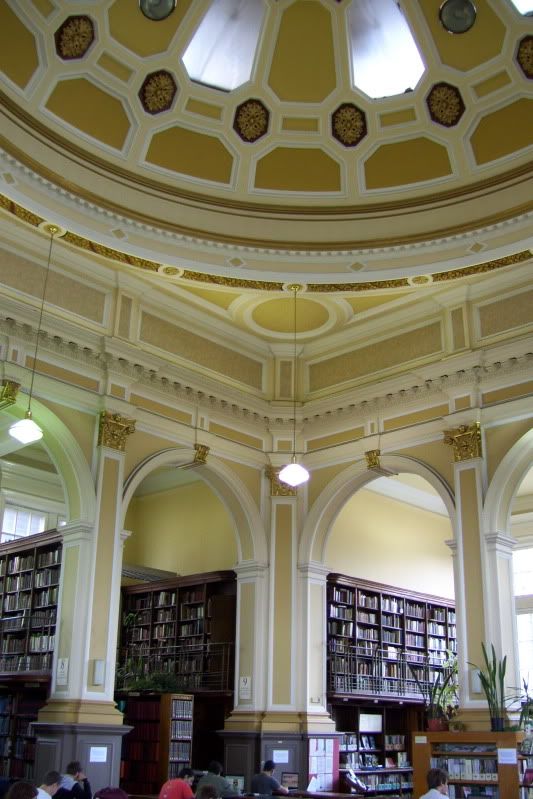 The Music Library carries "the finest music in Scotland" including bagpipes. It was nice to hear the Scottish music playing in the library. The Fine Art Library carries fine art, art history, architecture and photography books.
Of special interest to me was the
Children's Library
.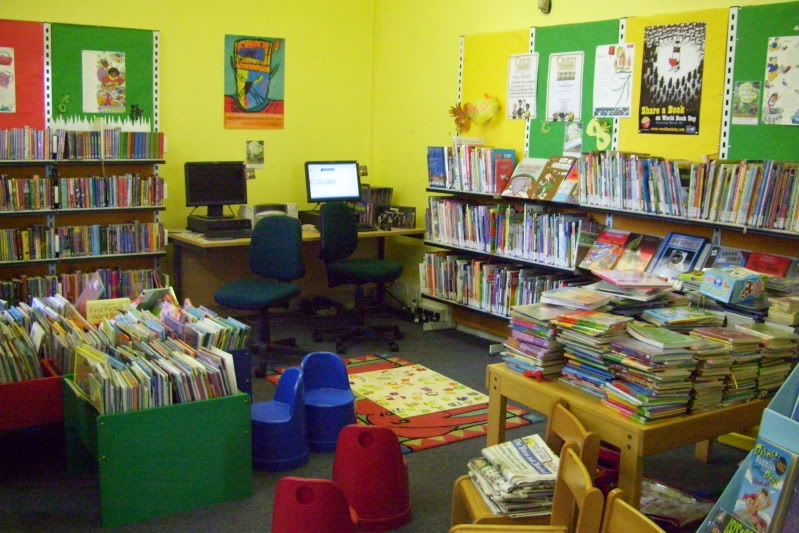 Like the other UK libraries I've seen this summer, we once again see QuestSeekers as the Summer Reading Program theme. I also saw this library is promoting Bookstart, a literacy program for babies. Check my Children's Literature links above for more information on these UK public library programs.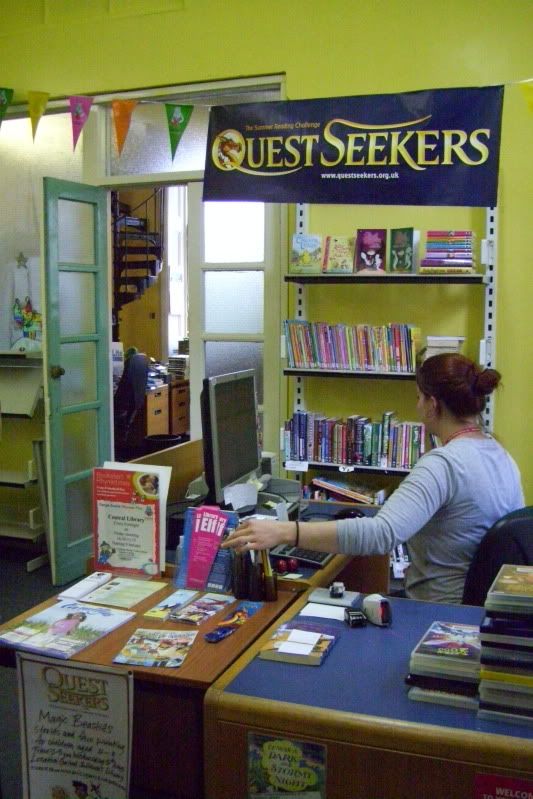 The Children's library provides storytimes, rhymetimes and book crawl. Children are limited to borrowing 12 books, but there are no charges for damaged picture or board books. The Children's library collection includes thousands of story books, picture books in lots of languages, board books, information books for homework, toys and games, Playstations, computers, internet, DVDs and books on CD. I found Harry Potter on audio in the children's library.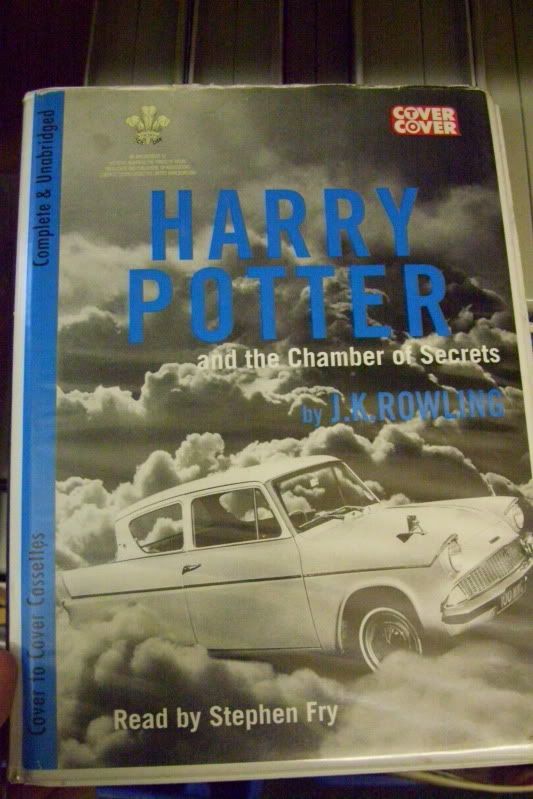 We had a great talk from Librarian Colm Linnane, of the Reading Champion program. He talked to us about some efforts of the library to reach out to readers. He emphasized the importance of partnerships, such as their partnerships with the Edinburgh Book Festival and UNESCO's Cities of Literature. Their version of The Big Read is One Book, One Edinburgh. I learned that book groups are very popular in Britain. He shared a great source,
826 Valencia
, a publisher of books for kids written by kids.
Memorable quotes:
"In public libraries, we don't do technology as well as we might." (So true!)
"When you impose tastes on what young people read, you're not validating them as a person."
A challenge for libraries is how to make a library visit more meaningful. The library can do things to make sure youth leave the library wanting to come back. One example is Make Noise in the Library Day. Some other outreach efforts include, taking kids to a book store to give them a sense of ownership. Mr. Linnane told us about his experience providing reading materials for bedtime at group homes. When left alone with their thoughts at nighttime, things would go haywire, reading helps! The overall message from him was to be consistent with child literacy.
This was a very insightful discussion to UK libraries. I'm so pleasantly surprised to see such similarities between American libraries and UK libraries. The struggles of librarians are very much the same. We try to do our best to reach out to youth and promote literacy, while also dealing with budget cuts and hard economic times. Reluctant readers can be found anywhere and librarians around the world can share ideas on reaching these youth.
After the Central Library, I followed our professor and some our classmates to the
Scottish Poetry Library
.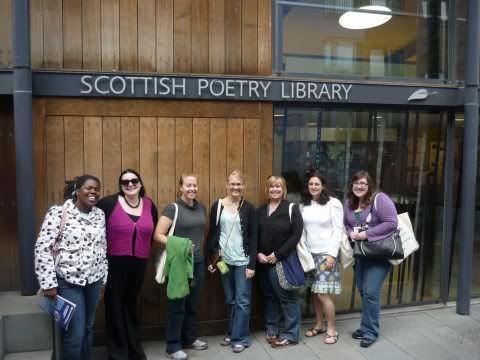 Some of the students were using this library as one of the three extra libraries we must visit on own time.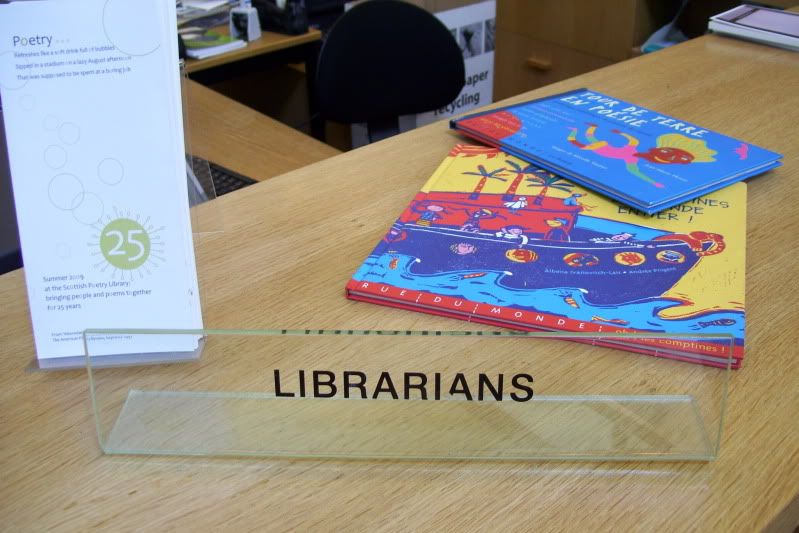 "With the motto By Leaves We Live carved into its entrance, the library feels like a tree house- a hidden, airy and welcoming haven." – The Herald
The Scottish Poetry Library is a national poetry resource offering free reference and lending services. The collection includes, contemporary Scottish poetry, a wide range of other poetry, a junior collection, CDs and tapes, poetry magazines, resources for teachers, readings and events.
We had to go to Hard Rock Café for dinner, of course. I'm collecting HRC shot glasses from every city for my friend Gail who lent me her digital camera! For my nightly pub experience, I went to Deacon Brodie's Tavern. The story of the true resident of Edinburgh, Deacon Brodie, was the inspiration for the character of Dr. Jekyll and Mr. Hyde.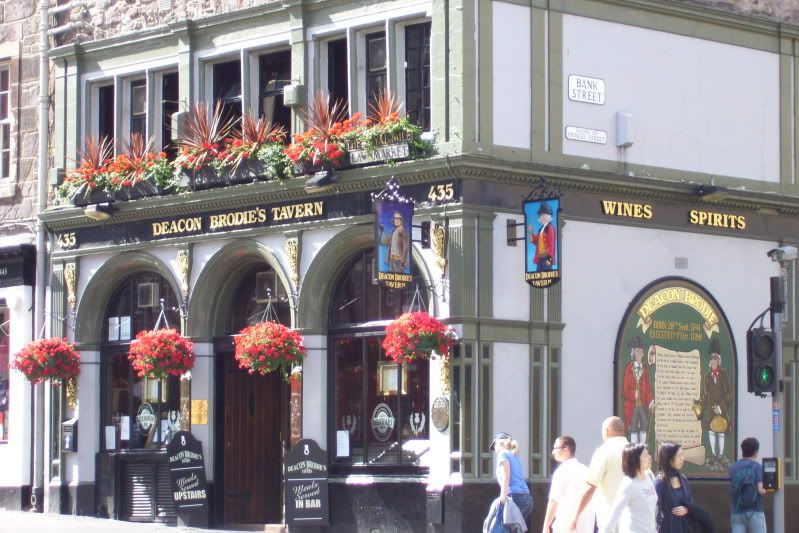 I took the night bus home back to Dalkeith Castle. This "
Knight Bus
" ended up being quite the adventure. After riding around through pitch black Edinburgh, I finally made my way to Dalkeith. I met a nice girl along the way. I had the chance to talk to her about Harry Potter. She said she loved HP just like most kids. She said Harry Potter is popular reading in Scotland just like everywhere else.
Tolbooth Tavern in Edinburgh, Scotland
Pictures of National Library and Edinburgh Central Library