Slideshow of the Barbican and Placebo concert
Day 5: This day turned out to be one of my favourite days of this trip. The
Barbican

Library
is a large urban lending library. I'm passionate about public libraries, so this was a great experience. The library is on the second floor of the
Barbican
Centre which is a cultural arts venue for film, art, music, theatre and dance. The site was a Roman ruins, but was bombed during the Second World War. The current arts centre and surrounding residential buildings opened in 1982. Look at
my pictures
to see the '
brutalism
' architectural style of the
Barbican
, reminiscent of the Roman times.
The City of London is the parent institution to the
Barbican
Library. It is a free public library with free membership to anyone who lives, works or studies in the City of London. The collection includes fiction, non-fiction, arts, financial, DVDs,
mP
3s,
CDRoms
, music
CDs
,
audiobooks
, children's books, children's recordings, maps, travel guides, large print, graphic novels, periodicals and magazines. The library has
internet
access, reading groups and special events. Your City of London library card also provides access to online resources such as
KnowUK
,
NewsUK
and Oxford Reference Online. The library also has a very large music collection including
CDs
, music scores, listening booths and an electric piano. I was surprised to see Dewey as the classification system for this British library! I was also surprised to note the Bibliographic Records in the catalogue were familiar, and the library even used
Pharos
to operate the public computers, the same system we use at Kansas City Public Library! For Outreach services, the City of London Libraries offer Home Delivery Service to the elderly and disabled.
Of special interest was the
Children's Library
, holding 25,000 items with books for the under 14s including board books,
ABCs
, counting, picture books, puzzle books, first readers, folk tales, fairy tales, parenting, reference and
audiobooks
.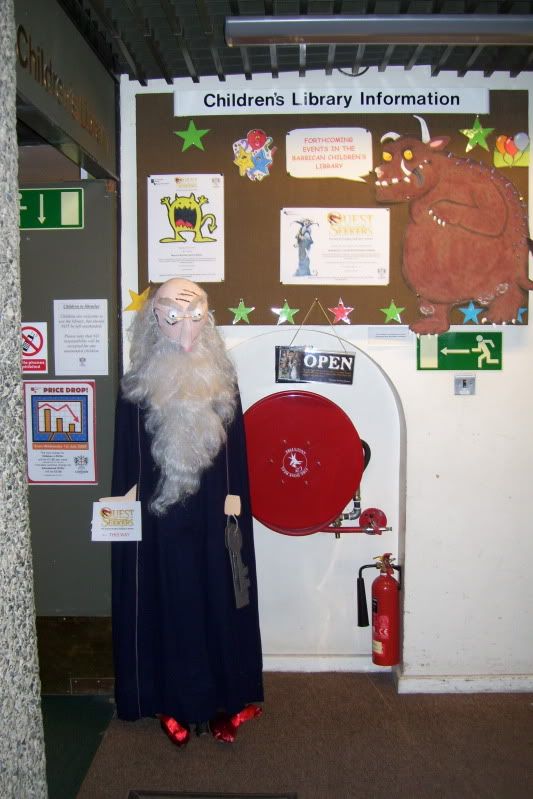 In addition to regular
storytimes
and reading groups, the Children's Library hosts two different Outreach programs. The
Bookstart
program provides parents and their new babies with reading support. A
Bookstart
pack includes free books and guidance materials for children at eight months, 18 months and three years.
Bookstart
is made possible by
Booktrust
, and independent charity.
Reading is Fundamental
is a national effort that provides funding for library outreach to all the playschools and nurseries in the community. The
Barbican
Children's Library partnered with
Starbuck
's to reach children who don't often have the opportunity to visit the library. I also picked up an awesome booklet: "
BBC Tips for Storytelling
" by Hunt Emerson.
It was nice to see the Summer Reading Program in full swing! This year's theme is
QuestSeekers
.
Summer Reading Challenge
The Summer Reading Challenge for 2009 is called "

Questseekers

". It will start on Saturday 18 July and run until Saturday 12 September 2009. The aim is to read six books during the summer holidays and for each book that is read, there is a small prize and you get to put a sticker on a dragon! At the end of the challenge, those children who successfully read six books will be invited to attend a special awards ceremony at Guildhall and will be presented with a medal and certificate by the Lord Mayor!
(from CityofLondon.gov.uk)
Finding Harry Potter at the
Barbican
Library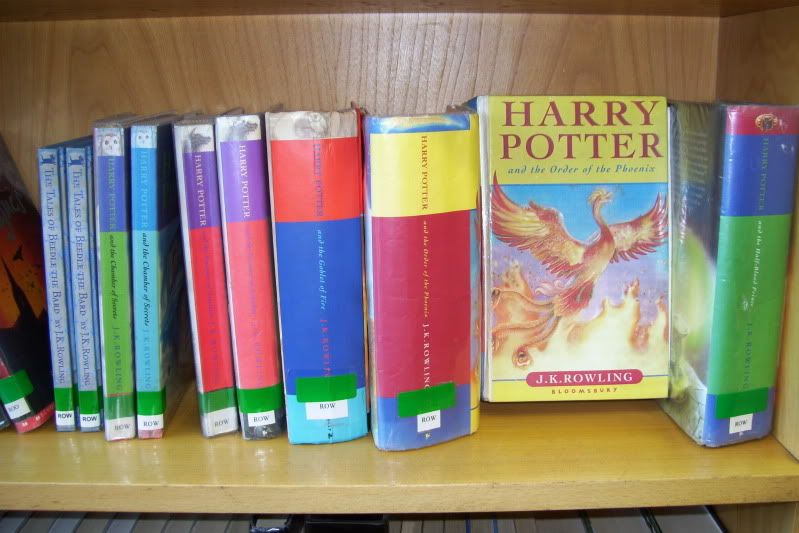 A search for "Harry Potter and the Philosopher's Stone" in the
OPAC
resulted in six copies, most of them in the Children's location of "Stories 10+" but two copies are in adult sections. I was curious why there were no copies of any of the Harry Potter series in the clearly defined "Teen" collection. The Children's librarian explained the books are catalogued by the publisher's recommendations. In Britain, there are adult editions and children's editions of Harry Potter, note the difference in the covers. The librarian explained there is no clear Young Adult edition, so that's why there are no Harry Potter books in Teens.
I love the
Barbican
Library and I visit often, with my City of London library card. I feel right at home checking out books and using the
internet
.
While I was there, I took in as much of the
Barbican
Centre as I could. I got to explore the exhibit, "
Radical Nature: Art and Architecture for a Changing Planet 1969-2009
."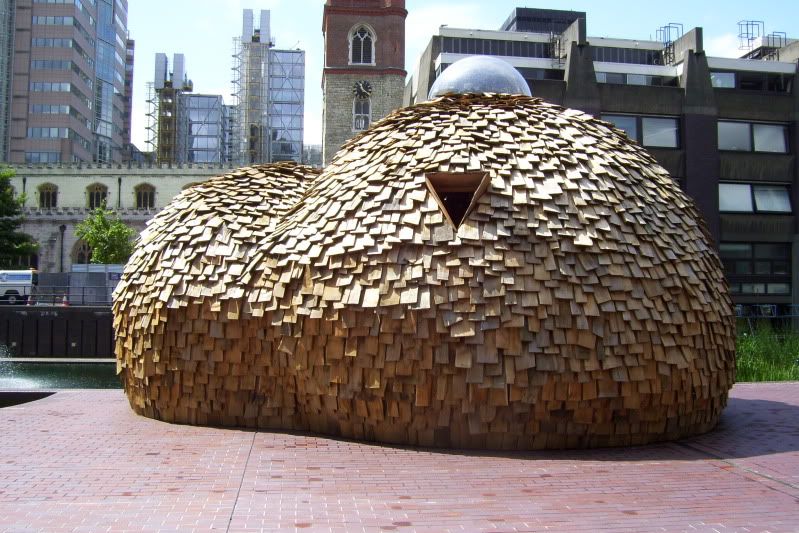 I even made a friend at the Waterside
Café
, while he made me an "ice cream waffle." Turns out three minutes is long enough to discover you have a lot in common with someone!
My sunglasses broke, which gave me a good excuse to go to Camden Town and shop for new ones. I was already near North London after all! I finally had some fish & chips. As I was walking back to the Tube at Camden Town, the coolest thing happened to me. I was walking by a venue called The Roundhouse,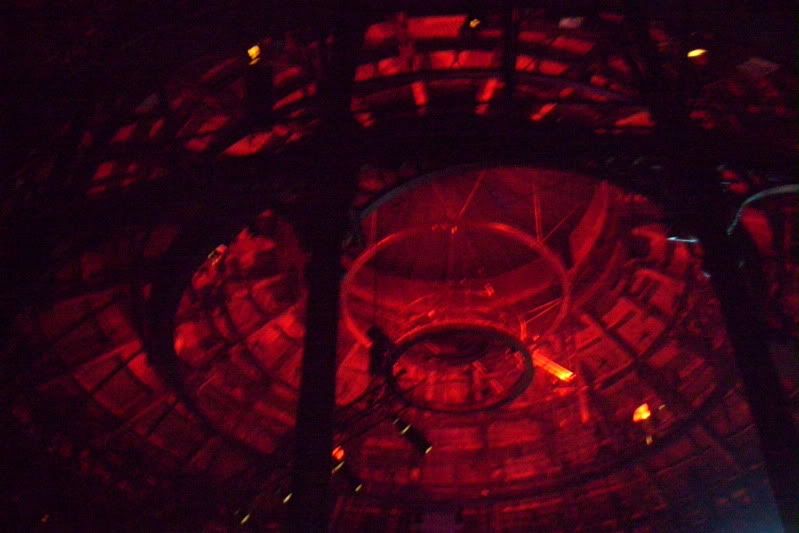 and a band I love was playing that night, but I already knew it was sold out. I asked someone why there was a big "
que
" for tickets, and they told me it was the line for letting 100 people in for free! I jumped right in and was one of the last 20 people to get in the door, I got so lucky! I got to see
Placebo
perform in their hometown! Made a new friend from Brazil, she was also standing in line hoping to get in. We may have been the only ones dancing, but we
didn
't care!!
Pictures of the Barbican and Placebo concert